Prepare your legs for the cycling season
Our training camps are designed to improve your cycling performance, maybe to prepare an upcoming granfondo or just to be in shape from the long winter and be ready for your spring rides. Andrea Pazzaglia, a former professional and expert coach will help you find the best fitness to face the 2019 season.
Our region - Romagna - and specifically our city - Cesenatico - is one of the best destination in Italy for training. With its diverse terrain (long flat roads among farmlands, rolling vineyard-covered hills and hard climbs) it easily provides the best conditions for all your training needs.
From March to May, the weather is sunny most of the time and temperature is perfect for cycling, around 18-12°.
Available mechanic service, fantastic Pinarello bikes and sport massage will have you living the pro life and wondering if you can't skip another week of work after all.
The program includes:
muscle augmentation in the plains and uphill

light off-threshold exercises

long-distance training

Simulation of medium and long granfondo.
But wait a second: you don't need a lot of experience to join our training camps. We do expect all riders joining our training camps to be confident riding in a group or paceline and riding anywhere from 25-100 km per day.
Regardless of what shape you arrive, our goal is to improve your riding.
What is absolutely needed is a strong passion for cycling, having the goal to improve and to have fun.
Ready to book? Here are the options available to you!
Are you a no-frills cyclist? Or are you just looking for the best? Our offer is based on 4 options, with different service levels.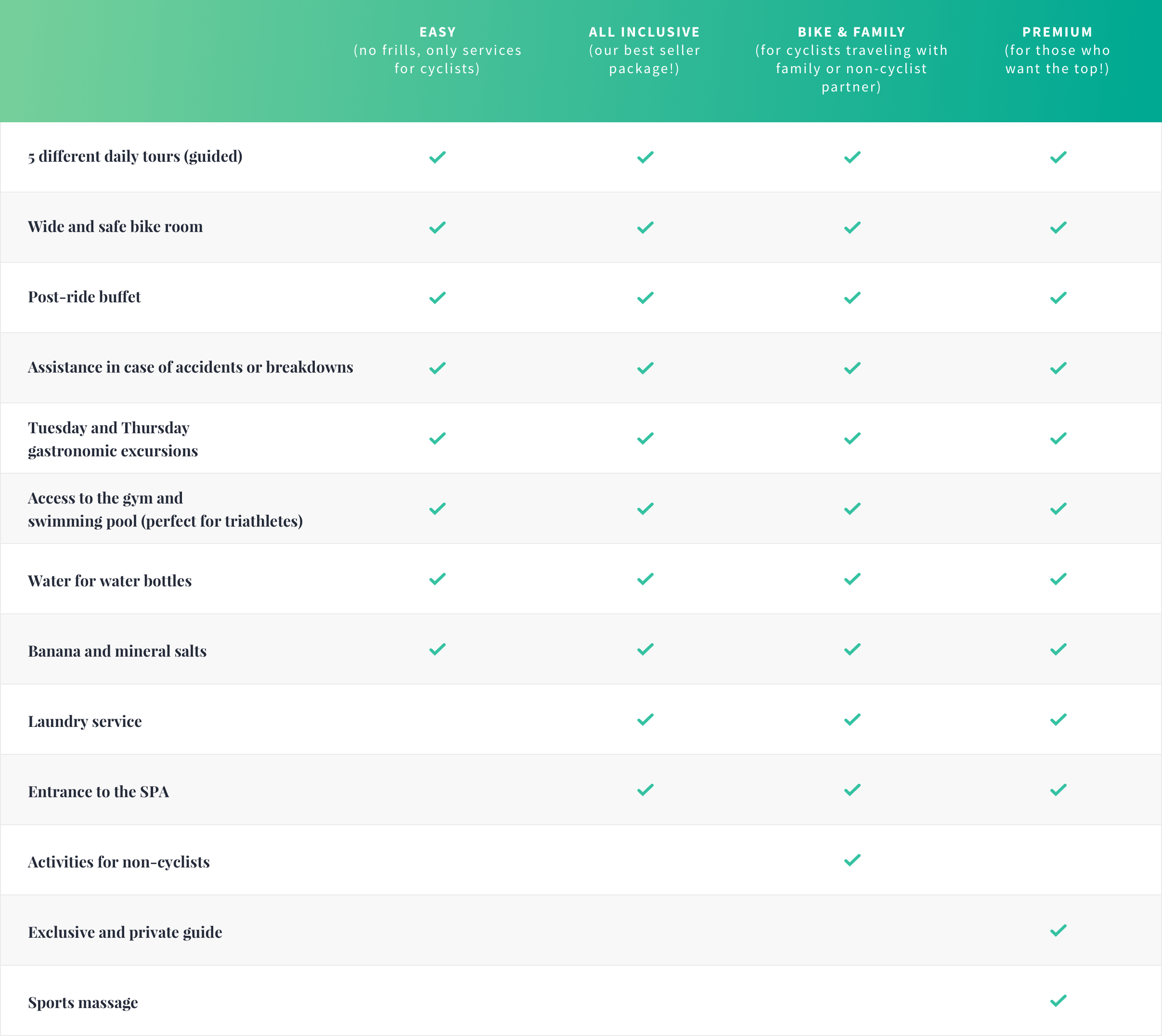 The Easy package is for cyclists focused on bike rides, keeping an eye on the price.
The All Inclusive package is our best seller and includes entry to our SPA and laundry service.
The Bike & Family package is very similar to the All Inclusive package, with additional activities for traveling companions or family.
Finally, the Premium packages are aimed at individuals and small groups who want the complete flexibility of a private guide, who will customize the bike rides day by day, according to their preferences: duration of the ride, ascents, number of stops, interests cultural events, sightseeing tours, etc.