While you ride, your family has fun with us in the hotel (June/July/August)
We are lucky enough to be located right in front of beautiful Adriatic sea and a fantastic fine-sand beach, in one of the most popular destinations for Italian families for their holidays.
That's why we have created the Bike&Beach package, for our cycling guests that travel with their families and non-riding companions.
This package combines the relaxation of the beach with the dynamism of the bike and is perfect for summer holidays. Here's what that means:
We start our rides early in the morning

, in order to avoid the the high temperatures of the central hours of the day and to allow you to get back for lunch. In this way you can train with us, avoid losing your fitness and at the same time you have plenty of time to dedicate to your family.

You can spend the whole afternoon with your family, on the beach under the umbrella,

at the pool,

in the Spa for a relaxing massage or discovering our wonderful region on an excursion.
Pretty great, isn't it?
We remind you that in our Bike Hotel we go out every day, all summer long: 5 guided rides each day (from the gentlest to the strongest) to choose from, a fantastic bike room at your disposal and many more cycling services.
Not forgetting that Hotel Lungomare is perfect for a relaxing beach holiday, thanks to its fabulous location right on the seafront, a splendid pool with a panoramic view, an intimate spa and an entertainment team dedicated to kids. All in all, your partner and the kids while have a whale of a time!
Ready to book? Here are the options available to you!
Are you a no-frills cyclist? Or are you just looking for the best? Our offer is based on 4 options, with different service levels.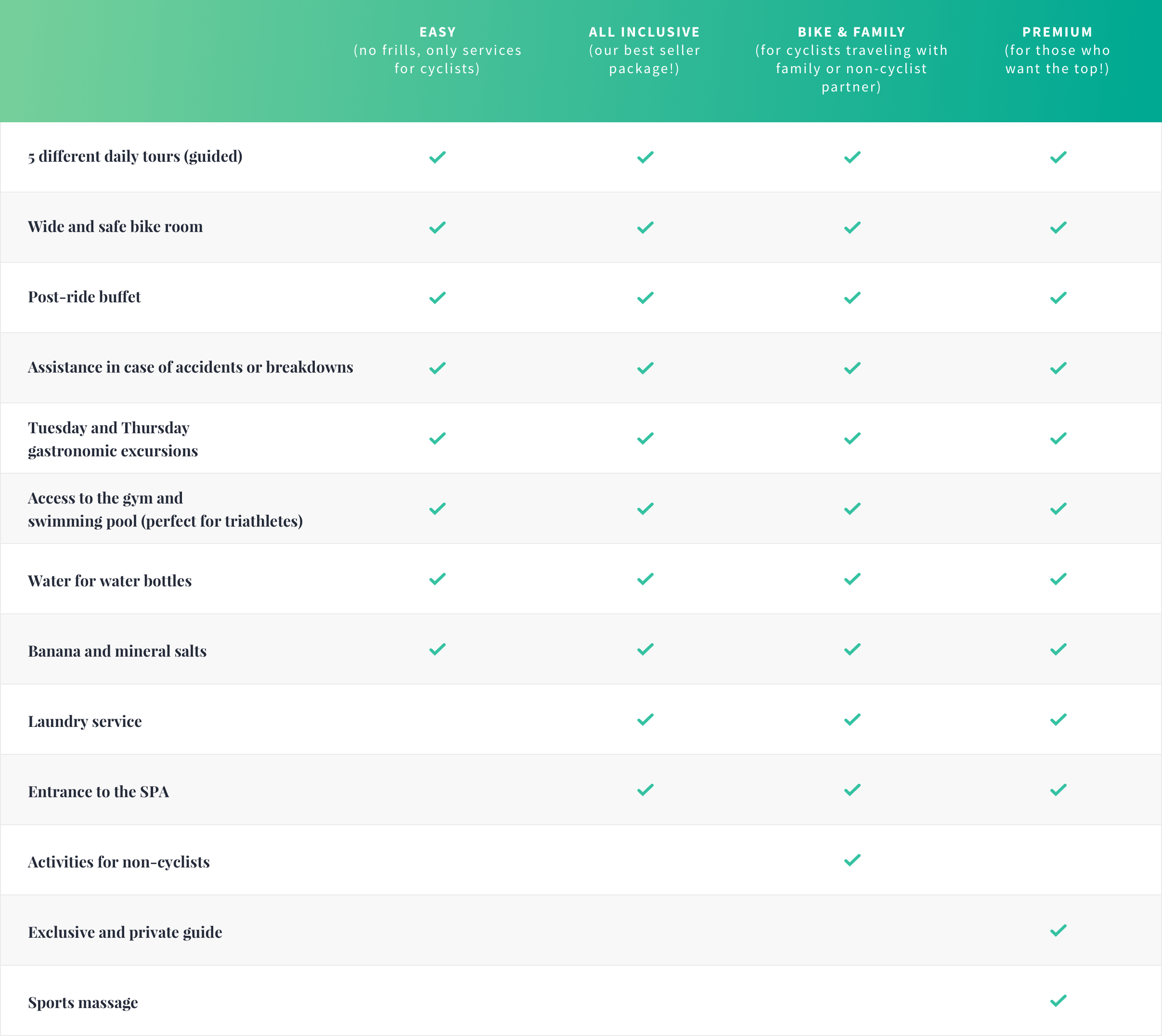 The Easy package is for cyclists focused on bike rides, keeping an eye on the price.
The All Inclusive package is our best seller and includes entry to our SPA and laundry service.
The Bike & Family package is very similar to the All Inclusive package, with additional activities for traveling companions or family.
Finally, the Premium packages are aimed at individuals and small groups who want the complete flexibility of a private guide, who will customize the bike rides day by day, according to their preferences: duration of the ride, ascents, number of stops, interests cultural events, sightseeing tours, etc.