That's Amore: from March to November
The sun is warm and very pleasant. Temperature is perfect and the roads are quiet. Everything is perfect to start to explore Romagna with a bike ride.
This style of cycling is where we serendipitously connect gorgeous landscapes, culture, history and cycling. We celebrate cycling, italian culture, joie de vivre. This style inspire cyclists to connect each other and to the areas we explore.
This type of experience is to embrace cycling as a soulful form of travel, that teaches us and connects us with the world and to the passionate, curious and creative human spirit.
Just because our primary focus is on the ride, doesn't mean we forget the other facets of la Dolce Vita. Every day, you'll eat local, fresh food, drink some of the best Italian wines (many of which are hard to find abroad), and visit the hidden local spots, many of which you won't find in the guidebooks!
Once you travel with us, you're family!
Ready to book? Here are the options available to you!
Are you a no-frills cyclist? Or are you just looking for the best? Our offer is based on 4 options, with different service levels.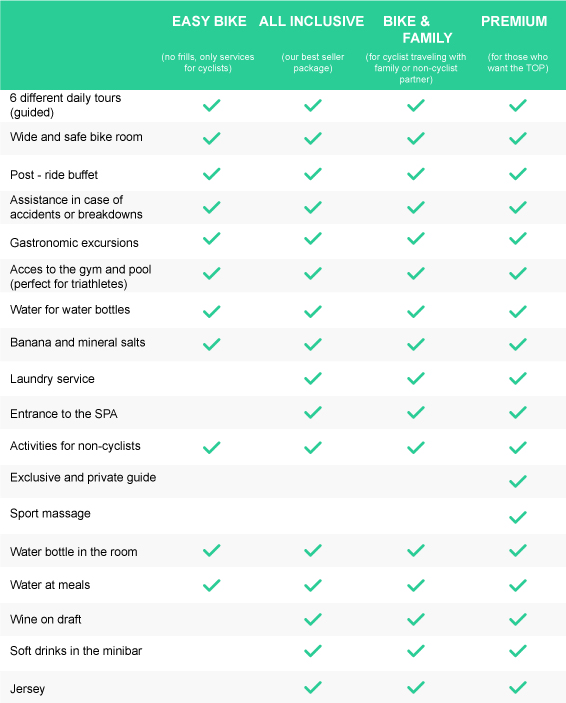 The Easy package is for cyclists focused on bike rides, keeping an eye on the price.
The All Inclusive package is our best seller and includes entry to our SPA and laundry service.
The Bike & Family package is very similar to the All Inclusive package, with additional activities for traveling companions or family.
Finally, the Premium packages are aimed at individuals and small groups who want the complete flexibility of a private guide, who will customize the bike rides day by day, according to their preferences: duration of the ride, ascents, number of stops, interests cultural events, sightseeing tours, etc.